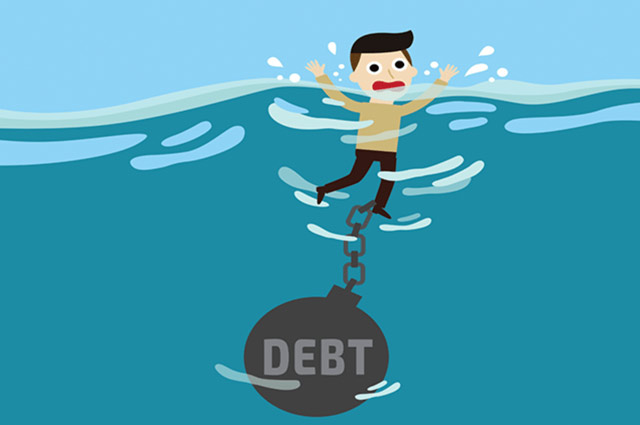 If you are Drowning in Debt don't tackle paying off debt without working toward future financial goals. While you don't want to ignore paying off what you owe, you could also be making a mistake by obsessing over it.
"Don't assume the best thing to do is put all your extra money toward your debt," says Eric Roberge, a certified financial planner and the founder of the Boston-based financial planning firm Beyond Your Hammock. "In some cases, yes, paying off your debt as quickly as you can by making more than the minimum payment or making extra payments [is best], but it depends on your goals, your cash flow and the interest rates on your loans."
Think of it this way: If you're always putting all of your extra money toward paying off your credit card debt, but you aren't putting any money aside for an emergency, you could leave yourself vulnerable if something happens, like your car needs a new fuel pump. In that scenario, you could end up buying the fuel pump with your credit card, and with the interest you would pay you could dig yourself deeper into debt.
Drowning in Debt – Is Filing For Bankruptcy The Solution?
If you're like most people, when you borrow money, you have every intention of paying it back. But then something happens; perhaps you lose your job or your hours get cut, your small business slows down, you get sick or you have to stay home to care for your children or an elderly parent. Whatever the reason, you find yourself unable to keep up with your payments.
Attorney C. Stephen Gurdin Jr. is experienced in handling Chapter 7, Chapter 11, Chapter 12, and Chapter 13 bankruptcy cases, as well as counseling all your creditors. Attorney C. Stephen Gurdin Jr. will also assist you in negotiations with creditors outside of bankruptcy.
Bankruptcy law is complicated, and you should have an experienced professional to assist you. And please note that bankruptcy won't help everyone, but it offers many people the chance to restructure their finances and get a fresh start by using the Bankruptcy Court.
Similarly, someone who finds themselves unable to make the minimum payments on their credit cards should consider getting legal advice. "If your monthly budget leaves you short of being able to make all of your minimum payment on your unsecured debts, first find out if you can qualify for payment reductions through a credit counseling agency. If the reduced monthly payments you quoted by a certified counselor are still out of reach, talk with a bankruptcy attorney like Attorney C. Stephen Gurdin Jr. about your options.
Are you Drowning in Debt, if so call Attorney C. Stephen Gurdin Jr. today and you could be debt free in as little as 3 months.
(570) 826-0481 phone
(800) 221-0618 toll free
Regular Office hours 2:30 and 7 p.m. Monday through Friday by appointment.
* Earlier appointments available upon request.
source, https://money.usnews.com/money/personal-finance/debt/articles/2018-07-27/4-things-not-to-do-when-youre-drowning-in-debt
Geoff Williams, Contributor